With our "Cordon d'Or" corn fed chicken we raise the bar considerately higher than for our regular chicken. In additional to the specifications of our regular chicken, the following conditions are met;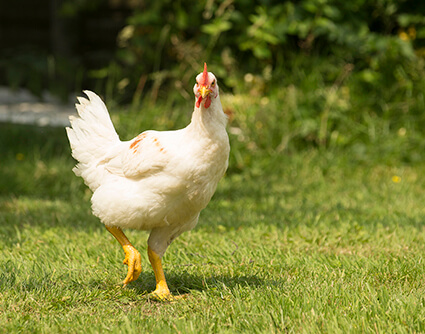 • We give our corn fed chicken lower occupancy per m², max. 16 chickens per m².
• Minimum age of 49 days (average 52 days)
• The corn fed chicken is a slow-growing breed. This slow growth implies a more vital corn fed chicken that rarely gets ill and/or needs antibiotics (factor 1/10 compared to the regular chicken!)
• The corn fed chicken get a selected and constant grain mixture (min. 75% grains of which at least 50% corn). Thanks to this feed (corn ration) the corn fed chicken is ideal for grilling. This alone gives it an unprecedented distinguished flavour: juicy and tender.
• The poultry checking system (cf. the European regulations) under which the corn fed chicken resorts is given an extra check by the Flemish government, sustainable farming department, throughout the chain: feed, poultry farmer and slaughterhouse.